Hello! Newbie ahoy! :D

I've finally decided to let my BL fangirl side take shape --- thus the making of an lj account, and my joining this community :D

My favorite artists are Yuki Shimizu [Mrawr Reiji], Takashima Kazusa [awesome artist], Kaori Yuki, and Ayano Yamane. I'm super new to manga, so if you guys know any good artists, with good mangas, by all means, I'm willing to know :D Share the lurv. As for series: Rin!, Eerie Queerie [harharhar], Love Mode, Viewfinder and gah, does anything by Kaori Yuki count? Cain rocks. Other pairings? I like H/D. Hehe.

Uhmmm anyway I'd like to post a picture.
Do any of you remember Recipe? By Shimizu-sensei? Well...I remember one line that Kaiya had --> "The Takizawa-san type excites me too." Hahaha I was a little surprised, because I happen to be a fan of Hideaki Takizawa and his 'aikata' Tsubasa Imai.

So for those who remember...and who don't...here's some eye candy.

[They're actually quite a rabu rabu couple in real life...gahahhaha though they deny it to bits. Isn't this picture ENOUGH proof?]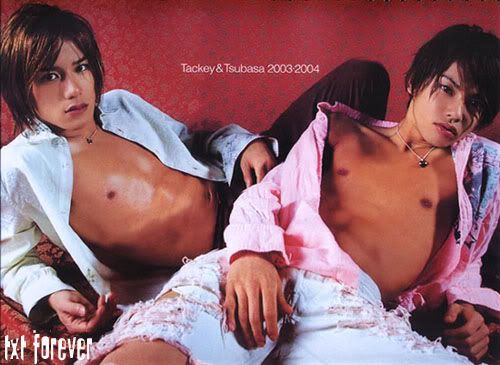 Takizawa-san, the one Kaiya likes, is the one on the left.

So with that, :D I hope that I'll be a good member and yoroshiku!